Savor German culture in Iowa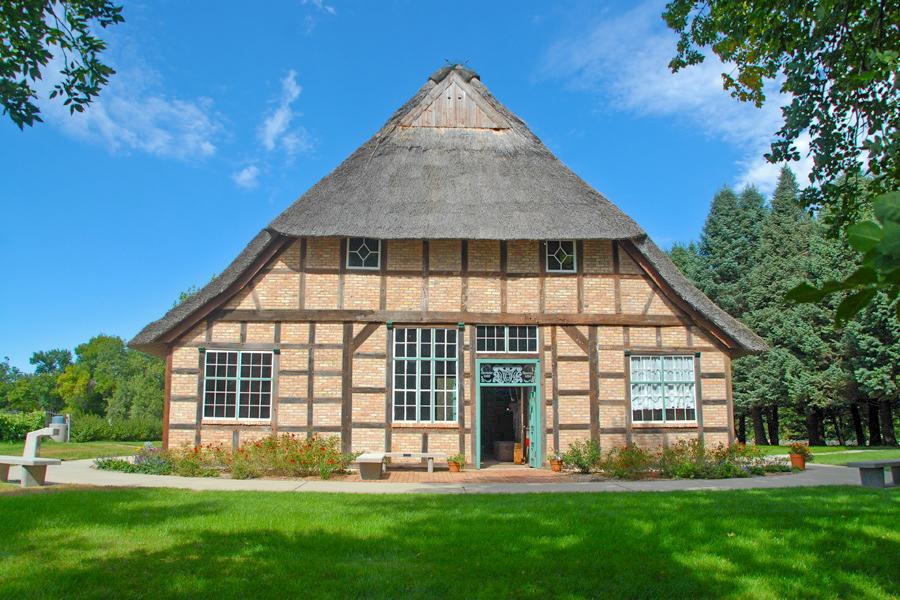 Benefiting from its heritage of German immigrants, Manning Hausbarn Heritage Park is home to iconic cultural sites, including an authentic German hausbarn.
Looking for fun travel ideas? Charming, quaint and picturesque Manning, Iowa is where the first German settlers immigrated in the late 1800s and early 1900s. The Manning Hausbarn Heritage Park located in Manning is not only a great place to spend the day outdoors, but it is also steeped in history. Home to an authentic German farmhouse, church and farm, plan a visit to this beautiful place and learn about its many cultural sites by taking a guided tour provided by a large team of volunteers.
Manning's story
Manning's settlers were mostly from Schleswig-Holstein and Hanover, Germany. According to the history of the local church, the early settlers were so delighted with the fertile soil in the Manning area that they quickly wrote to relatives and friends in Germany to come to America. As a result, many people came from the Old Country straight to Manning, Iowa in the late 1800s and early 1900s.
German Hausbarn
Built in 1660 in Schleswig-Holstein in northwestern Germany, the Hausbarn is the main attraction of Manning Hausbarn Heritage Park and a tribute to the German heritage of the city and its people. After many years of political unrest, including two world wars in Germany, the hausbarn was dismantled and sent to Manning where it was reassembled on the Leet / Hassler farm established in the 1910s by a local farmer. This unique thatched-roof barn structure features one-family accommodations with traditional bedrooms, dining and kitchen areas as well as shared spaces for farm animals and equipment under one roof.
Lutheran Church of the Trinity
When immigrants from northern Germany arrived in Manning, they organized a congregation that would meet at a school. They quickly built the Lutheran Trinity Church in 1884, which exceeded its capacity and was rebuilt in 1901. In an unfortunate turn of events, the church was destroyed by a tornado in March 1913, but the congregation unfazed immediately began to rebuild the church, which was completed in six months. This historic structure can still be found in the Manning Hausbarn-Heritage Park. However, over time the congregation could no longer support the church and the members started to leave. In 2006, the church was closed after its 125th anniversary. In an effort to preserve this historic structure, the Manning Community Foundation chose to relocate the church to Manning Hausbarn Heritage Park. The move was quite an event for the residents of Manning, who raised $ 100,000 for the church move. It took four hours to cover a distance of 11 miles. Forty wheels supported the structure from below, which weighed 112 tons and was 78 feet long and 34 feet wide with a steeple 92 feet high. The church was placed on its new foundation on June 9, 2006.
Leet / Hassler Farm
Built in the 1910s, the Leet / Hassler farm finds its place in the National Register of Historic Places. Once owned by wealthy farmers, William A. Leet and Frederick H. Hassler, the farm offers a one-and-a-half-storey artisan-style bungalow with a three-bay garage, a mansard-herringbone barn, a pigsty, a henhouse, ladder house and boar house. The boar building is said to have housed an award-winning pig. There are also two stone planters, a bird bath and a fish pond built by a local mason and dating from 1916. The bungalow still features the original flooring, decorative interior woodwork and accents as well as the plumbing. and lighting.
Konferenz Center
Not exactly a cultural landmark, the center of Konferenz with its Hansen hall, dining room and industrial kitchen makes the property a popular venue for social gatherings like family reunions and weddings as well as corporate conferences. 'business. The Roten Bar Tavern and accompanying courtyard are open every Thursday evening, often with music, food and drink specials for the community to come together and enjoy good company. Less than a decade old, the center is the perfect complement to the Manning Hausbarn Heritage Park.