Mifflinburg celebrates German heritage with food, drink and music | Local News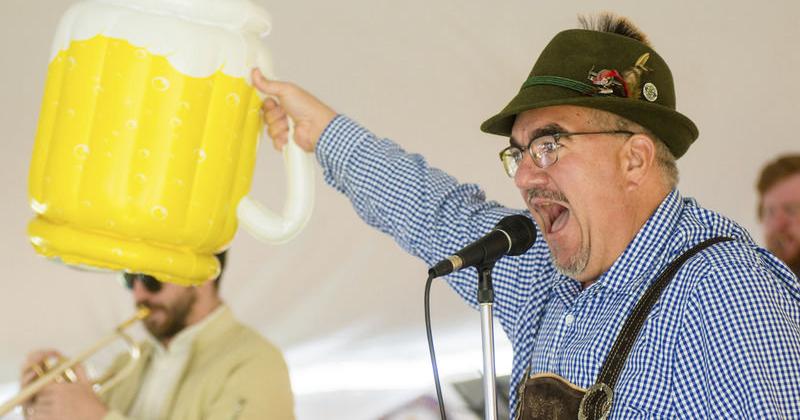 MIFFLINBURG — The beer stayed cold and people turned out in droves for the 15th annual Mifflinburg Oktoberfest, which ended on Saturday.
Ceramic glasses were filled and Danielle Padroni, 28, of Beaver Springs, said she was enjoying the chilly day.
"It's just fun," she said. "I'm having a blast with my friends and just hanging out with them and enjoying a cold beer."
The two-day event took place at the VFW carnival grounds on the west end of town.
Fundraising is organized by Mifflinburg Heritage and Revitalization Association.
President Larry Mitchell said he was delighted with the attendance.
"I would call it a crowd," he joked. "We had a lot of people here on Friday night, and it's a busy Saturday for us."
Oktoberfest 2019 featured a list of seven beers imported from Germany: Spaten Lager, Spaten Dark, Franziskaner Wheat Beer, Hoffbrau Oktoberfest, Hoffbrau Dark, Hacker Pschorr, Paulaner Oktoberfest. Mifflinburg's Rusty Rail Brewing Company will serve its own Oktoberfest-style beer alongside its Blue Collar Blonde and Wanderlust.
Shade Mountain Winery of Middleburg also participated in the event.
"It's becoming a tradition for me," said Sylvia Turner, 58, of Washington DC. "I'm driving to see my friend and we just come to have fun and listen to music and mix and mingle with other people."
His friend, Eric Smith, 63, of Williamsport, agreed. "We've been planning around this for five years," he said. "It's just a fun event that we always put on the calendar and make sure we don't miss."