New Braunfels toasts German heritage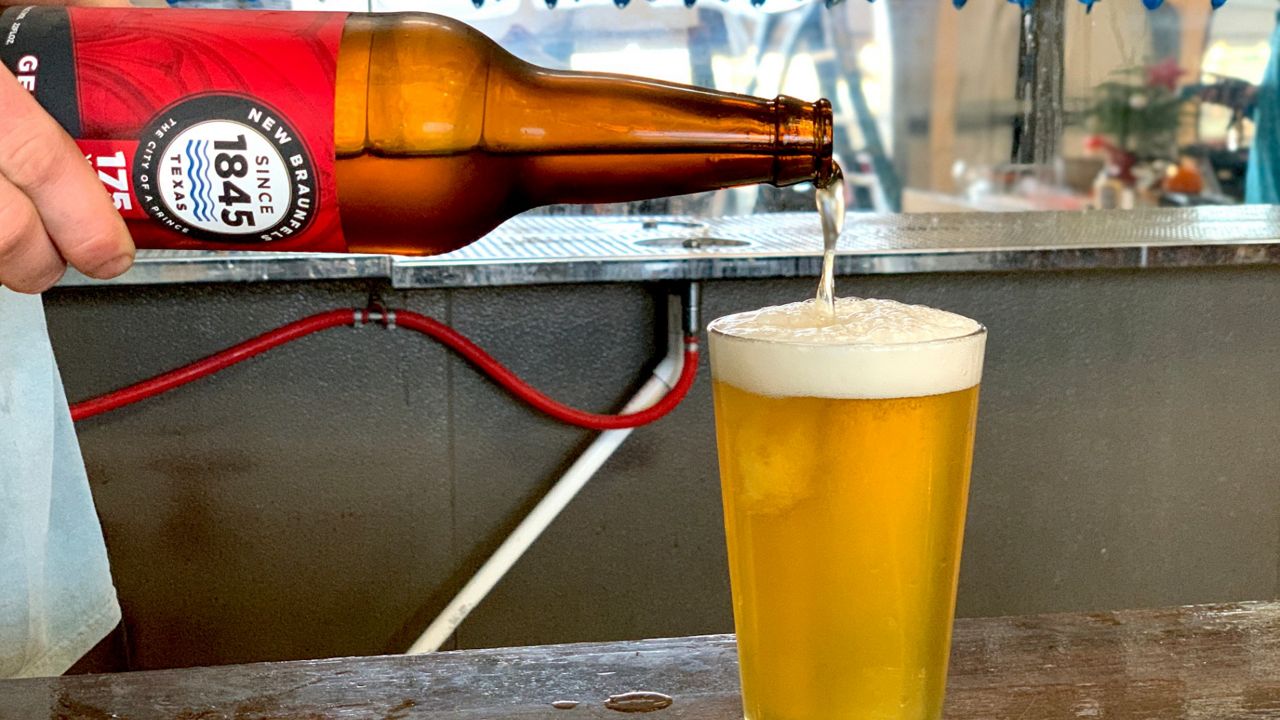 In honor of the 175th anniversary of the founding of New Braunfels, the town "toast" to its roots with a commemorative German-style beer, all thanks to Guadalupe Brewing Co.
Simulcast between Braunfels, Germany and New Braunfels, Texas
Pilsner is nicknamed Gemütlichkeit (the good life)
Limited supply
During a visit to Germany last springowner Keith Kilker collaborated with a brewery to create the idea of ​​a traditional, light pilsner that would be a nod to New Braunfels heritage.
"We wanted to set up a kind of collaborative brewing type," Kilker said. "We actually brought in some honey from Germany that we put in the brew that would kind of complement the beer. And so it's a bit more malty than what we traditionally do here."
To kick off the anniversary, city leaders raised a glass of pilsner, dubbed Gemütlichkeit (the good life), during a simulcast video conference with Braunfels, Germany. Pilsner was served at the party, but it's a limited supply.
"The trip was to do a simulcast between us here and Germany. The details of how we were going to do it and what everything was going to be involved really hadn't been worked out. I guess it was like five of us who went there, specifically for the city to understand what we were going to do," Kilker said. "The trip to Germany was really about the event and the legacy of that area for me . You know, going back, finding out where the roots of the city are, it was really good."
This was not Kilker's first visit to Germany. The first time was when he was on duty.
Photo of a glass of Gemütlichkeit next to commemorative beer packaging (Stacy Rickard/Spectrum News)
"The last time I was in Germany I was in the air force and I went there during Desert Storm. And it's one of the places that kind of inspired me to open the brewery later. Because the beer was so much better than the lagers sold in America at that time," Kilker said. "Between that and what I experienced in the Pacific Northwest, in terms of their IPAs and many different styles they were doing there, that's what we wanted to bring to Texas."
Kilker returned from his trip and commissioned the brewers to create what they call the "party pilsner".
"It all started with the idea that he brought back," said brewer Andrew Serafino. "So we took the approach of just brewing a pilsner. Gather the grain and brew it. The trick to making a good pilsner is to keep it. Let it sit in the tank and mature and become what it has to be. So we had to plan a bit ahead and let it rest. There are three of us shuffling, so it was all of us on deck doing everything."
After 8 weeks of keeping, the brewers had 300 gallons of commemorative light ale.
"So it'll be like 20 full size kegs and we're supposed to destroy them all. It came out great. It's super crisp, super clean," Serafino said.
Unfortunately, once it's gone, it's gone for good.
"So we're going to do this batch, it went well. But I think it will be one and done until maybe the 200 years when we can do it again," Kilker said.
New Braunfels will host events throughout the year to mark the 175th anniversary. To display the list of events, click on here.