Moving to the beat of their German heritage keeps musicians in tune | News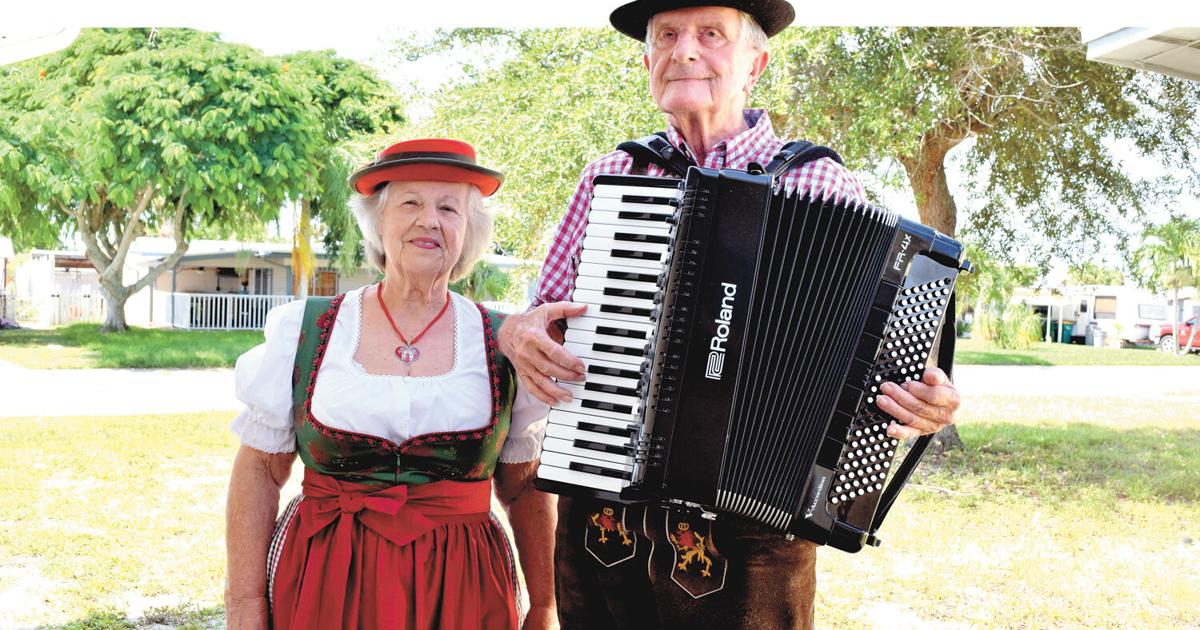 It's October and Klaus Kolb, 86, and Brigitte Koss, 84, don their Lederhosen and Dirndl, practice polkas and revive their native language to run Oktoberfest events in the area.
"We couldn't have Oktoberfest without Klaus," exclaimed Stella Tobin, director of activities and recreation at Chateau Madeleine Senior Living in Suntree. "We have booked it again this year. He brings an authentic Germany and appeals to everyone with his personal style.
For a decade, the Merritt Island couple shared their Bavarian-German culture through accordion music and folk dances.
"I like to see people having fun," Kolb said. As of September 1, he had booked 12 Oktoberfest performances for clubs, organizations and retirement homes.
They also occur year round. Kolb's musical repertoire includes 800 songs, mostly European and American standard dance music. "He does them all by heart, not by notes," Koss said.
Kolb also plays piano, keyboard, French horn and the Slovenian diatonic button box, which resembles an accordion. Four years ago, he spent six months learning the tuba to provide bass sounds for the Harbor City Dance Band where he performed weekly.
Kolb played the accordion at Sonata Viera on September 1 and will be returning for an Oktoberfest this month. "He's amazing. The whole room was dancing and singing. He made it super fun and interactive," said Ashley Mazzoni, Director of Lifestyle.
The first Oktoberfest took place in 1810 in Munich to celebrate the marriage of King Louis I. Strong beer, German folk music, clothing and dances as well as tents and carnival attractions increased attendance to 6 million people. COVID-19 derailed the 2020 event and postponed this year's plans, but Koss said residents of the region were "eager to come together for some fun."
Although Kolb grew up in East Germany and Koss in Frankfurt, neither attended Oktoberfest in Munich. The couple met in 2014 at the AccordionFest of the Brevard Chapter of the Central Florida Accordion Club, run by Koss, and agreed to grow old together.
Their days are active. "I get up around 5 am and cycle for almost 20 kilometers (over 12 miles) sometimes with no hands as it helps with balance. And I walk two miles, "Kolb said. His father instilled in him that "movement is essential for our body". At 80, the company's former CEO began writing his memoirs, producing four books titled "Twelve Flags." Last year, he formed the Palm Island Music Ensemble to provide outdoor music during the pandemic.
Kolb oversaw the construction of geodesic dome houses around the world until 2019. He continues to translate ancient German documents into English, gardens and horse rides.
"You have to keep your mind to stay young," he said.