German Heritage Festival in Tomball celebrates the history and culture of Tomball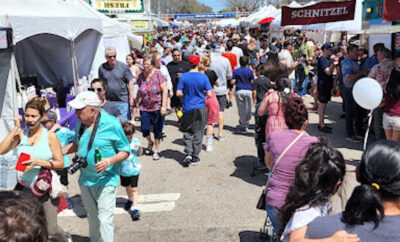 TOMBALL, TX – The Tomball German Heritage Festival is three days of fun for the whole family held twice a year, once in the spring as the Tomball German Heritage Festival, and again in mid-December as of German Christmas Market & Festival. The festival features live music on four different stages, vendors, authentic German cuisine and traditional folk dancing.
See more photos from the event at Hello Woodlands Facebook Page.
Four city blocks celebrate Tomball's well-established German heritage with a carnival, children's area, and beer garden. The celebration features over 160 unique and interesting street vendors selling German heritage items, arts and crafts, and more. Buskers, street performers and street vendors line Market Street, along with strategically placed beer gardens offering many types of imported German beer.
The "Weihnachtshaus" is inside the community center at 221 Market Street, which is full of German clothing, a fudge shop, and souvenirs for sale.
You don't have to be German to enjoy this festival. From humble beginnings with a single Oompah band on a flatbed trailer sixteen years ago, the festival has become an annual tradition in Tomball and one of the best festivals in Texas. Every year on the very last weekend of March, festival-goers pull out their lederhosen and dirndls for "Go German" for the region's largest festival celebrating the legacy of the first German families who settled in this region from 1840.
Year after year, these fan favorites continue to please attendees:
Schnitzels & Giggles, owned by Robert and Alexandra Graf, has a huge following which is easily seen by their long queues. When looking for the most authentic Schnitzel at the German Festival, look no further than this bright yellow truck full of people in traditional German outfits. This year, foreign students have helped.
Granny Dee's Pierogi, another longtime festival favorite, is owned and operated by Denise D. Snyder of Waxahachie, TX.
Chef/Owner Eric D. Morse and his family bring you the true "German-Texan experience" on a food truck with The Sauer Kraut Food Truck.
At Helga's Strudel you will find delicious, fresh and authentic German strudels and pretzels. Helga's European pastries are baked in a traditional European style using practices, styles and flavors passed down through ancient family recipes.
Styria Bakery travels the farthest distance to be a vendor, making the 16-hour trip twice a year from Denver, Colorado.
The local favorite Pretztex Pretzels is owned by Johnny and Anca Lancu. PretzTex pretzels are made with five simple ingredients: water, flour, salt, butter and a leavening agent, but offer a complex flavor.
The Tomball German Festival has many other food vendors serving everything from bratwursts, German sausages, steak on a stick, gyros, kettle popcorn, loaded fries, Kartoffelpuffers (pancakes from potatoes), freshly squeezed lemonades and, of course, Texas beers like Ziegenbock and Warsteiner Beers from Germany. Festival staples are also available, such as funnel cakes, corn dogs, twister fries, fudge, fried twinkies and popcorn. All sorts of chocolate-dipped dishes on a stick are available, including marshmallows, cheesecakes, strawberries, bananas, ice cream bars, and even mini donuts.
There are also the brick-and-mortar restaurants and bars that are part of the festival, with storefronts on the closed German festival main street, which include Every-Bellies, The Empty Glass, Skeeters Dogs Desserts, Fire Ant Brewing Company , Market Street Cafe and Craving Kernels – Popcorn and gourmet treats. These companies add more "flavor" to the foodie paradise that is a festival.
To learn about upcoming events in Tomball, such as the Rails & Tails Mudbug Festival, the Tomball Bluegrass Festival and more, visit www.hellowoodlands.com/city-of-tomball-releases-2022-calendar-of- festivals-and-events. For a list of upcoming festivals and fairs throughout the area, visit www.hellowoodlands.com/upcoming-festivals-fairs-community-events-in-the-woodlands-area.
Nick Rama is a food writer, contributor to Hello Woodlands, and shares his dining experiences on Nick's Local Eats at NicksLocalEats.com and the TX BBQ, Burgers and Brew Facebook page. Nick enjoys helping the small business owner, supporting his community by raising money for food banks, and planning tasting events with local and family restaurants.