Grace Fest celebrates German heritage in Lutheranism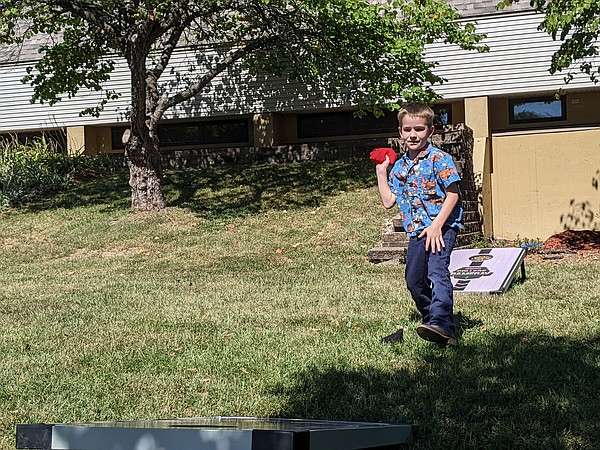 German heritage was front and center on Sunday at Grace Lutheran Church's second Grace Fest in Holts Summit.
The celebration of German heritage within the Lutheran Church included a feast of traditional German dishes, live music from the Maker's Dozen and outdoor games for children.
More than 100 people bought tickets for a meal, which is about what organizer and church elder Cole Oxley had expected. This is an increase from the inaugural year of the event.
Oxley said Grace Fest was originally a family event called Oxtoberfest. Eventually it got too big to host at home, so he approached Grace Lutheran Church to make it a church function. He was first welcomed into Grace Lutheran Church last year.
"It was a huge success," he said. "It's just something to make our church stand out."
Oxley, dressed in a German lederhosen, said the event this year was more in the tradition of Oktoberfest, the German celebration commemorating the wedding of Bavaria's Crown Prince, who later became King Ludwig I, to the Princess Therese von Sachsen-Hildburghausen.
Kathy Montgomery, who helped organize the event, said the celebration also serves to mark the anniversary of Martin Luther initiating the Protestant Reformation, leading to the creation of Lutheranism.
"We kind of kept it in the congregation last year for the first time and we brought in a few people from outside and they liked it, so we decided 'Let's open it up to the community and do it. enter them," Montgomery said.
"It's a celebration of brotherhood and a celebration of the Lutheran Church," she added.
The wide range of German dishes included pork cutlets, spaetzle, potato soup, reuben dip, Oktoberfest stew, bratwurst and sweet red cabbage. Ingwer-kek (German gingerbread cookies), a German fruitcake and Anisplatzchen (a German Christmas cookie) were among the dessert options.
Mingo and Siggi Ming are a married couple from Germany who cooked most of the Sunday food. They recently joined the church and immediately became instrumental for Grace Fest.
"I'm from Germany, so I know how to cook schnitzel and spaetzle, so there you go," Siggi said.
She spent about eight hours preparing food, frying 70 schnitzels, and making about three gallons of spaetzle (using 36 eggs, five pounds of flour, and two pounds of cornmeal).
"It seems like a lot of people here have German roots," Siggi said. "And food always brings people together. It gives you camaraderie and the food is comforting, so that's what we do."
German is the most reported ancestry in the Midwest, according to the 2019 American Community Survey administered by the US Census Bureau. More than 1.3 million Missourians reported German ancestry in 2019, nearly 23% of the state's population.
Oxley said Missouri's large German population should be given the opportunity to celebrate their heritage.
It became unpopular to celebrate German heritage after World Wars I and II, he said. The story is well documented in Hermann, a German wine town that he says only began to reclaim culture in the 1970s.
"Of course, we're all Americans, but we've also learned where our roots come from," Oxley said.
In its two-year run so far, Oxley said Grace Fest has drawn a good crowd from Immanuel Lutheran Church at Honey Creek in Jefferson City.
"We're just trying to raise cultural awareness and be proud of who you are and be excited," he said. "It's just a good time to let people know about German Lutheran culture and the events we are doing."